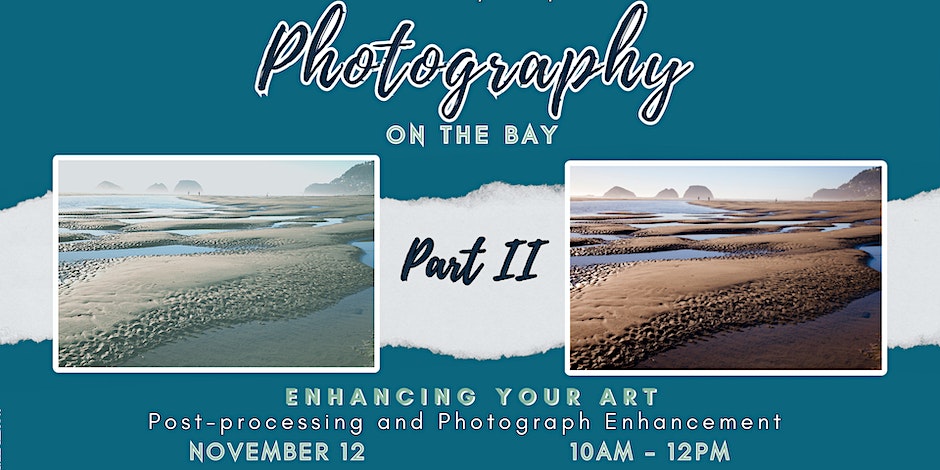 Join Friends of Netarts Bay WEBS for Photography on the Bay, a two-part series!
PHOTOGRAPHY ON THE BAY PART II: Enhancing Your Art
Do you love to capture the beauty of Netarts and the surrounding area in photos? Searching for tips on how to process and enhance your work? Join professional photographer and WEBS volunteer, Jim Young, for a session on post-processing and photography enhancement.
Participants will learn tips for post-processing and enhancement, discuss various programs available, and leave with the knowledge of what they can do to improve their photos.
Participants who are open to having their work displayed and receiving positive feedback and tips for enhancement are encouraged to submit photos for review during the workshop. Cell phone photos are not ideal. All photos should be in raw or jpg format.
PHOTOGRAPHY ON THE BAY PART 1: This is the second session in our new two-part series, Photography on the Bay. Participants are encouraged to also participate in Photography on the Bay I: Exploring Photographic Composition. Scroll down for more information on that event.
EVENT DETAILS:
Registration is required.
There is an IN-PERSON and VIRTUAL option for this event.
Meeting location and meeting link (for virtual attendees) will be shared after registration.
Participants under 16 must be accompanied by an adult.
Cost: There is no cost to attend this program. Please consider supporting WEBS with a tax-exempt donation.
This event is part of the Explore Nature series of hikes, walks, paddles, and outdoor adventures. Explore Nature events are hosted by a consortium of volunteer community and non-profit organizations, and are meaningful nature-based experiences that highlight the unique beauty of Tillamook County and the work being done to preserve and conserve the area's natural resources and natural resource-based economy.
Find out more on our website Friends of Netarts Bay WEBS (www.netartsbaywebs.org) and by following our Facebook and Instagram pages (@netartsbaywebs).
Stay connected with the Explore Nature Partnership at www.explorenaturetillamookcoast.com or on social media (@explorenature_tillamookcoast).
We understand everyone learns differently and are open to working with anyone needing additional support. We will adjust how we offer this event to meet the needs of participants, however, we have limited capacity. Please contact us in advance so we can do our best to accommodate your needs.
Photography on the Bay Part I: Explore Photographic Composition
DATE + TIME: October 15, 2023, at 10 AM
Learn how to make your photographs shine during Photography on the Bay Part II!